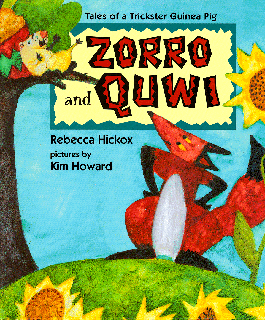 Click on the book to order from Amazon.

Zorro and Quwi: Tales of a Trickster Guinea Pig ($14.95)
by Rebecca Hickox, illustrated by Kim Howard
Reading Level: Ages 5-9
Hard cover, 32 pages, Doubleday, 1997
0.36 x 10.32 x 8.68 inches, 0-385-32122-8
Rebecca Hickox adapts a cycle of tales called "The Mouse and the Fox" written by a thirteen-year-old boy living in Peru. She relates a folktale about a fox and guinea pig in a village in the Andes Mountains. Zorro, a determined fox, sets out night after night to catch Quwi, a crafty guinea pig. Each night, the two hungry animals attempt to feast on their prize.

Quwi desires the delectable flowers and vegetables from the farmers' gardens. Zorro craves ... well, a juicy, tender guinea pig. But each night, Quwi outfoxes the fox out of his meal and stays one step ahead of Zorro. Can Quwi outsmart the ravenous Zorro and the frustrated villagers? Will Quwi ever be able to eat his vegetarian meal in peace?

The vibrant colors of Kim Howard's illustrations add to the atmosphere of adventure with each stroke of her brush. The expressions on the characters' faces bring the emotions of the tale to life. And the sharp angles and curves exude energy and complement the rainbow of colors on the page.

This suspense-filled, comical tale is essential for any collection of guinea pig books. Children of all ages will be at the edge of their seats as Quwi encounters Zorro each night. You will never look at your cavy companions in the same way after reading this tale.

Review written by buddies@buddies.org on May 4, 1998.
---
Copyright 1998 M. E. Barr.


Back To Our Human's Home Page
Web-Counter indicates
visits since January 96.