A Cherished Treasure
29 July 2000
I have always considered myself a rational, intelligent person. However, it seems all reason escapes me when I see a cute, fuzzy little face. And, today, I encountered an irresistible pair of piercing black eyes. Now, who could say "no" to those sparkling lookers?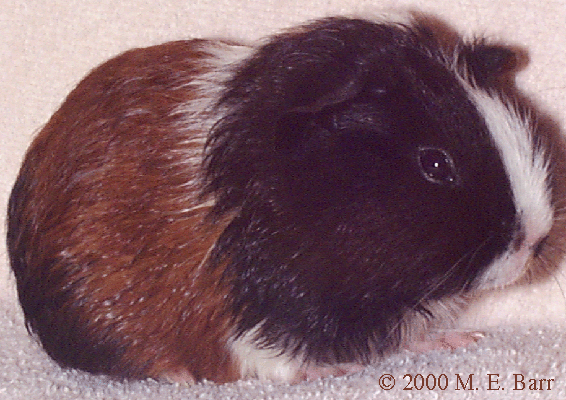 Almost a month old, our newest tricolored American sow is 286 grams. Nicknamed "X" by her papa, the phrase "X marks the spot" flashed in my mind, hence, the name, Treasure. And a wonderful little treasure she is.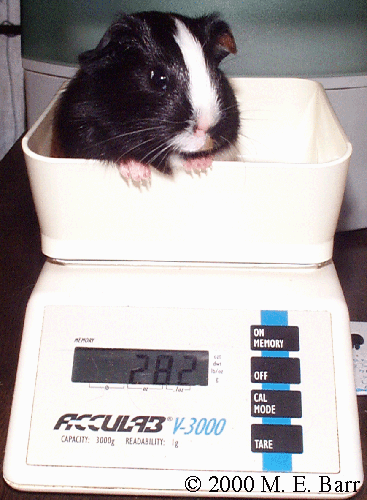 Treasure is quite comfortable in her new home. Almost immediately, she ate some pellets and oats from my fingers. She spent several hours laying in her food bowl, occasionally munching on a morsel. She has not eaten any veggies yet, but the big girls will teach her the joys of green food when she joins them.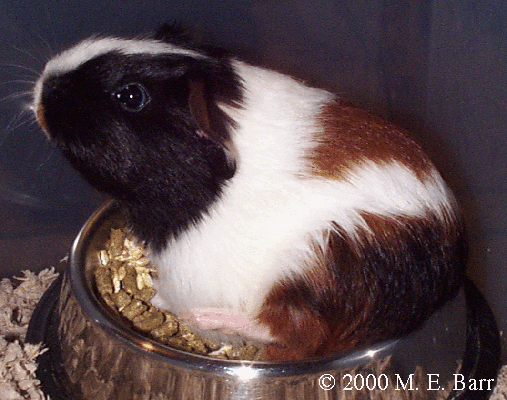 During cuddle time, her favorite place to be is on shoulders, but she will stay on a chest if you keep a hold of her. I think she is going to be Papa's Little Girl. What do you think?
Welcome to the family our little Treasure. You certainly are a Treasure to us.
---
Copyright 1998, 1999, 2000 M. E. Barr.
Back to Current Issues
Web-Counter indicates
visits since January 96.