A New Bundle of Joy!
31 May 97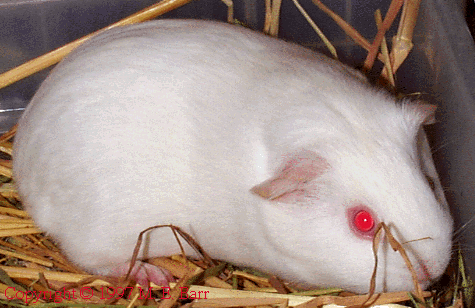 Those of you who have been keeping up on the new additions to our cavy family probably knew this was coming. Today we found a new member to our family. She is about two months old and weighs a little over one pound. Here is what the rest of the gang has to say about her (They have not met her yet, but they know something is going on).
Wheeker: It smells like another cavy. That means I have another baby to teach all the tricks ... like how to beg for food and look innocent after chewing on some mouse cords.
Truffles: I think I smell another friend to play with. We will run and jump around on the floor during floor time. I wonder when I get to meet her?
Chesapeake: I can smell something ... I can smell something. I wonder if it is something to eat?
We have a couple names in mind, but we welcome any suggestions. Just send in your suggestions to the address below, and we will post them. If you would like to write to her, please send e-mail to her at buddies@buddies.org. She is still too skittish to be able to sit at a computer to answer her e-mail, but Truffles has graciously volunteered to answer her mail. If you would like to see a closeup of her, click here or on her picture above.
---
As of June 28, 1997, here's a list of the name suggestions received for our newest buddy:
Your beautiful new baby looks like a "Cupcake" with little cherry eyes.
-- Submitted by MiriamFoodlady
Petunia - it's feminine and starts with P for the pink eyes.
-- Submitted by Debbie
Pffeneusse (sp.?? the Christmas cookie rolled in powdered sugar)
Lichee (an Asian white fruit)
any flowers that may be white-rhodies, rose/rosebud, daisy, etc.
an automobile - one of the GPs around here is named Catera, after the new Cadillac, since her brother was named El Dorado.
-- Submitted by Cato
Vanilla
Danish Wedding Cookie (called Dannie for short? ;-)
Cupcake
Pom-Pom
Macaroon
Coconut
-- Submitted by Libby
Snoball (the cupcake with the white frosting and coconut, not the cold thing you throw!)?
-- Submitted by Dale and the Mad Scramblers!
"Dim Sum" which translates roughly to "a little heart's delight"
-- Submitted by Phoebe's Mom
Peanut
Marshmellow
Buttons
Mittens
-- Submitted by Abigail3@aol.com
Lily- Did I request this for Chesapeake? Well, it seems better for your new one.
Sugar- Sweet, soft...
Tamanala- This is not just a name for anyone!
Cherry- Those eyes!
Daisy- She is one!
Preceosa- (sp?) Spainish for precous. (sp?)
-- Submitted by Alli
Cairo
Kenya
Deliyah
Sarabi
-- Submitted by Van Davis
Fantasy
Moca
Tosheka
Moondrop
Snowbound
Moonglow
-- Submitted by Scott Schutts
Carmen
Darlene
Fudge
Honey
-- Submitted by Angela
Lace (She's white, ya know!)

And here's a message from my two little female guinea pigs:
Winnie: Cute little upstart. (She is 1 year, 1 month old)
Peanut: Wow! She's got red eyes like me!!! I wonder if she can stand up on hind legs yet? (Peanut is 5 months old)

-- Submitted by