Predictable Predicaments
14 Mar 98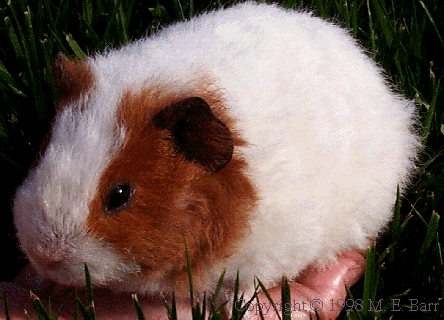 Some of you may be asking, "What predictable predicaments?" Those who know us well may not be asking that question, though you may be asking, "What predicaments?" After all, a life with cavies has no predicaments ... or does it? By now, you realize that the Cavy Clubhouse has gained a new member, currently unnamed. We have several possibilities; however, we will entertain any names you would like to suggest for our new addition. Please send them to Wheeker, Truffles, Chesapeake, and Aurora so they have many names to choose from for this very important decision. We will include your suggestions below as we get them.
Our newest addition appears to be either a texel or a teddy. She is mostly white, except for some tan around her eyes. Although she is skittish in her cage, she purrs while being held and snuggles close. Her favorite snuggling place is on a shoulder with long hair draping over her. Weighing in this afternoon at 328 grams (10.5 oz), this month old piggie eagerly munches on carrots. She has not discovered the joys of timothy hay or the water bottle or food bowl yet, but so much has happened today. She will be romping about and demanding treats from her humans slaves soon enough.

Still wondering what predicaments such an adorable little baby can cause? The first obvious predicament I am in is when am I ever going to have time to complete schoolwork. I am taking a full load of graduate classes this semester, and with this irresistible ball of fluff in the house ... well, I just do not know when I will find time to study and do the projects I need to complete. In the four hours she has been in the house, she has captivated our attentions the majority of the time.
Other predicaments this newcomer may bring have not occurred yet. Currently, she is staying in her own little home so she has time to acclimate to her new home. However, after this time is over, she will join the rest of our girls in their piggie palace. At this time, our four have always been able to sleep in their own corners. However, with the newcomer, we will be one corner short. Where will she sleep? Will someone allow her to share a corner or will someone have to find a new bed?
Also, when this little cavy has floor time, how will we keep her from squeezing through the barriers we have placed around the room? Right now, the barriers keep our gigantic piggies from getting behind those choice spots behind the television and computer equipment, but this little one is a mischievous little raccoon who just might get herself into tight quarters. How will I ever get her to come out from behind the piano?
I suppose we will deal with these predicaments when they come up. Until the need arises, we will enjoy this new bundle of joy. In the coming weeks, we will learn how to best meet her needs as her willing personal servants and she will learn that we will do whatever her little heart desires. The coming days, weeks, and months will be filled with lots of "firsts" as we get to know each other. It is so nice to have another baby in the house.
If you have any name suggestions, or solutions to these predicaments ... or possibly any predicaments we have not considered ... please let us know. We are looking forward to hearing from you.
---
As of March 27, 1998, here's a list of the name suggestions received for our newest baby:
Evangeline
-- Submitted by ? Please know who you are. I cannot remember the name of the person who submitted this. AIM crashed before I copied the name down.

Pearl
-- Submitted by Munchkimmi@aol.com

White Gold
Amber Snow
Caramel (her red looks like caramel)
Buttermint
Pecan
Ladybug
Crybaby
Angels Wing
Ra (the gold of the sun)
Eclipse
Aztec (Aztec Flower, Aztec Flame)
Angelfire
Starfire
Popeye
Nougat
Snickers
Peanut Brickle
Custard
Merangue
-- Submitted by Laurie

Tinker Bell - a mischieveous fairy full of magic and fun.
-- Submitted by Terry

BullsEye (she reminded our slave's dad of a Bulls Eye candy ... round caramels (brown) with white filling in the middle ... even though your new friend is kind of the opposite)
-- Submitted by Teddy and Licorice

Brillo D. Cavy
Scruffles
Squeaker
Streaker
Sir Theodore the Furry One
T-Rex
-- Submitted by Carolyn

Phoebe (I just think it's a great name for deserving pigs. This little gal could be Pheobe.)
Penta (She's the fifth one in this herd. And Penta sounds like a name, to mex)
-- Submitted by Heidi and Shelby P.

Tabitha
Samantha
Sabrina
Emily
Spunky
-- Submitted by Liz

Brown Sugar
-- Submitted by TigsterC

Sydney
Afton (a scottish song and a river, sweet afton is a rose too)
-- Submitted by Suzie

Teddy
Tanner
-- Submitted by Jamie

Since your human sow is so interested in sweets, maybe another cookie name?
-- Submitted by Manda Mae of the Mad Scramblers

Theodora
-- Submitted by Anjela

Food related:
Dreamsicle (because it's orange & vanilla)
Orange Julius (frothy orange & vanilla mall drink)
Julie or Julianne (variation on orange julius)

From various books:
Fenchurch
Trillian
Citlali
Azucena
Susama

Gemstones (all have some kind of orangish color):
Topaz
Amber
Carnelian
Citrine
Sunstone
Fire Opal
-- Submitted by Amy

Gwendolyn (it can be shortened to Gwen or Wendy)
-- Submitted by Terry
Predictable Predicaments - An Update
28 Mar 98
It has been two weeks since our predicament came to live with us. How have we fared since then? For one thing, getting schoolwork done has proved difficult, if not utterly impossible. The little fluff ball continues to interrupt my studies with her incessant squeals that errupt into laps about her enclosure if I fail to fulfill her requests for food. During the few quiet moments during the day, my path somehow always includes a detour to her cage. For some unexplained reason, my thoughts and senses are engulfed with her presence.
This curly-haired 440 gram eating machine devours almost everything in sight. Her favorite vegetables include romaine lettuce, carrots, and radicchio. Although she does not care for Shredded Wheat, she enjoys nibbling on rolled barley and hay. Human hands no longer stop her from gobbling up her prize. Although she still somewhat distrusts her monster caretakers, the hand-food connection motivates her to defeat her fear of us. Each day we become more of a welcomed sight to her as we answer her demands for treats.
We think we have solved the "corner" problem. A week ago, we decided that the Cavy Clubhouse might benefit from a second story. We added a platform, a 16 X 24 X 6 inch plastic storage box turned upside down with two rounded entry-ways drilled in one of the long sides. The result? A useful platform to keep veggies clean and out of bedding (except when a piggie decides to "eat while running"). An exercise stair-stepper so everyone stays in shape. And, last but not least, it created two new corners! Of course, when someone uses one, it partially blocks that entry-way, but as long as only one piggie is using the new corners, they have an exit.
We have not discovered if she can squeeze under or through the barriers we have strategically placed throughout the house. However, with the way she is growing, we will not have to worry about that for very long. By the time she gets to explore the whole house, she will be too wide and long to get past most or all of the obstacles. Of course, perhaps her size will not deter her from the places she wants to explore. She seems like the extra-curious type of piggie who will find a way even if she has to go out of her way to do it.
So, when the newcomer joins the herd later this week, she will impress them with her squeals for food (they are already curiously and anxiously waiting to meet this new voice they have been hearing for the past two weeks). Perhaps she will become the spokespiggie for the group. She will also have plenty of sleeping places to lounge in. However, perhaps most importantly, she will have plenty of room to race around, and many obstacles to abruptly avoid as she sprints around food bowls, through doorways, and around or over other piggies.
Have we solved all the predicaments yet? Possibly. However, even though we currently have a favorite name for our newest family member, we have not decided that it will be her name. We would appreciate any additional name suggestions for our little cotton ball. Please keep them coming to Wheeker, Truffles, Chesapeake, and Aurora so they do not leave any stone unturned for this very important decision. And, of course, please alert us to any predicaments we may be overlooking. We want to be prepared parents. You know, with a baby in the house, you can never be overly cautious.
A Melodious Marvel
17 Apr 98
Our newest arrival enjoys singing for her supper in her a deep, melodic voice. Through the weeks, many of her calls have become higher-pitched, similar to her four companions. Once in awhile, though, she still sings in her lower, reverberating register that prompted her name.

Viola has lived with her new family for a month now and has been living in the cavy palace with the big girls for about a week. At first, she was a bit timid, fleeing the others whenever they came near to investigate. Now she squeezes her 540 gram body in between the giants to get at choice veggies. No more scraps for her!

The Palace has plenty of beds for sleepy piggies. Viola generally gets the little white house that was her own while she lived on her own. However, at times she gets the translucent water jug or the yellow ferret ball and sometimes she's under their eating platform.

Her best friend is Wheeker. She follows her most places. Sometimes she even jumps over her! However, as the rest of the gang becomes less pushy and more accepting of this newcomer, she spends more time eating and resting beside them.

Another successful introduction into the Cavy Clubhouse. Now the only problem is that its members are now conspiring to enlarge their home. I think they are voting sometime this weekend.



---
Copyright 1998 M. E. Barr.
Back to Current Issues

Web-Counter indicates
visits since January 96.